Meet The Toothless Monster
A more magical, meaningful Tooth Fairy experience!
The Book
The richly illustrated hardcover book follows the story of Monte, The Toothless Monster, as he meets the Tooth Fairy and earns his teeth. It's a story about being different; about helping others; and a little bit about partying, of course! Plus a monster-shaped tooth loss chart to record each date that your child loses a tooth. The book is also available with a purple monster friend, Meli.
The Monster
The snuggle size Toothless Monster plush toy comes in your choice of blue or purple. A beanbag base helps the monster sit upright next to your child's bed. Also, a secret tooth pouch is located under the monster's tongue to safely hold your child's real tooth until the Tooth Fairy comes to deliver it to its thankful new owner - Monte or Meli.
The Magical Teeth
The Toothless Monster comes with a set of attachable teeth that the Tooth Fairy's assistant (an adult), keeps hidden in a safe place. While helping the Tooth Fairy with her usual duties, you'll secure one of the provided teeth in the monster's mouth - it takes only seconds to do. Your child will be thrilled to wake and find that their monster really gained a new tooth . . . and their Tooth Fairy gifts, of course.
After all, where DO teeth go when the Tooth Fairy takes them?
Join the adventure
The Toothless Monsters are here and shipping now!
Check them out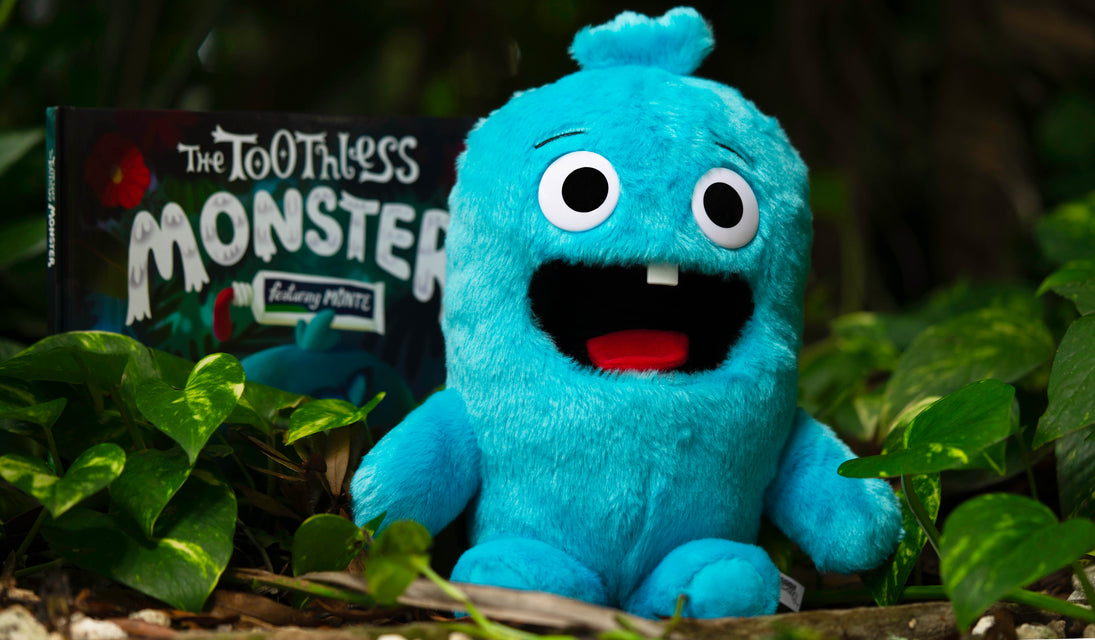 Testimonials

The Toothless Monster is the most exciting thing to happen to the Tooth Fairy tradition since, well, the Tooth Fairy.
– Maria, Mom of Four Kids
Loosing a tooth can now be fun instead of fearful for children as they help the monster.
– Dr. John, Dentist
The book and unique plush monster together create a fun and engaging Tooth Fairy experience unlike anything else.
– Steve, Dad of Two Boys